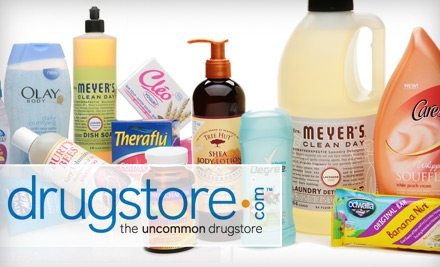 This deal is sold out now!
Today's Groupon deal is another HOT one and anyone can take advantage of it!  Groupon is offering a $25 Drugstore.com voucher for only $10.  Plus you get free shipping on orders above $25, so you are set!  I was just playing around with what's available and there are quite a few ways to stretch this voucher.  You can start in the clearance section to see what's discounted, or start in the coupon section to check the instant coupons they have available.  Right now there is a coupon for $2/1 Pampers diaper that makes the big boxes (reg $27.99) only 10.99 after coupon and voucher. To get this deal:
Login or sign up for a Groupon account
If Hampton Roads is not your default city, just look at the top of the page and look for "Visit More Cities", you will see Hampton Roads at the bottom of the second column.
Get your Groupon deal and happy savings!
This deal is available to first time users of Drugstore.com.  You can only buy the discounted voucher today on Groupon but you have until 10/29/10 to use it.  This is a great way to get those expensive things that never have coupons for less.
Thanks Mrs. Moneysaver and Passion for Savings!