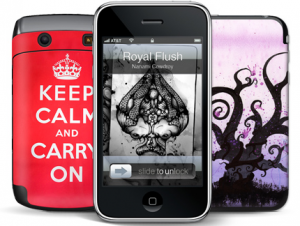 Here are some of the online Groupon offers available today. The following offers are available in certain cities BUT they are redeemable online which makes them available to everyone. To see the particular offer you are interested in, look for the city offering the deal under "Visit More Cities" at the top of the Groupon homepage. Here are the offers available today:
Brooklyn
– $15 for $30 Worth of Customizable Skins for iPhones, iPods, Laptops, Nintendo DS and More from GelaSkins May be used toward shipping.  This one looks like  a pretty cool one and great present idea for a hard to shop teenager.
New Orleans
(side deal)– $20 for $40 Worth of Eco-Friendly Apparel, Accessories, and Gear for Babies, Toddlers, and Kids from Organiclayette.com. Tax and shipping not included.
Louisville
– (side deal) $29 for a Custom Photo Clutch ($59.95 Value) or $50 for a Custom Photo Bucket Bag ($104.95 Value) from SnapTotes.com
Nashville
– $20 for $40 Worth of 3-D Greeting Cards from SwingCardStore.com
Providence-
(side deal) $19 for a Medium Personalized
Bagettes Cosmetic Bag
($41 Value) Tax and shipping included.
Raleigh/Durham
– $22 for a 24-Cookie Gift Box from
Insomnia Cookies
($50 Value)
Thanks Bucktown Bargains!