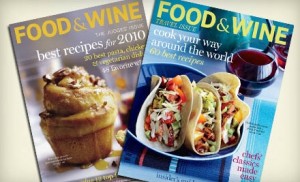 Groupon is offering a couple of magazine deals that I think are worth mentioning:
1) The first one if a 15-issue subscription to Food and Wine Magazine for $12.  This is slightly more than a one year subscription as they publish 11 issues per year.  We have been subscribed to this magazine for years and I think this is a fair price to pay, particularly because it is 15 issues.  This offer is not good on subscription renewals.
2) One year subscription to Oprah Magazine for $10.  This is a cheap as you will find this magazine.  The closest price has been $12 on Ideeli.
Food and Wine Magazine is a great magazine for anyone who loves cooking.  We are not wine drinkers so we usually skip the wine articles but the recipes are great!