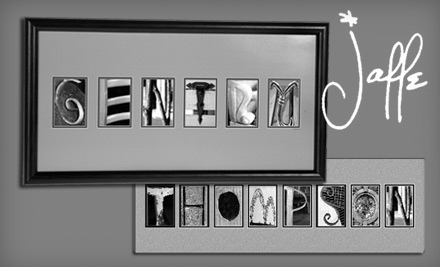 Here are some of the online Groupon offers available today.  The following offers are available in certain cities BUT they are redeemable online which makes them available to everyone.  To see the particular offer you are interested in, look for the city offering the deal under "Visit More Cities" at the top of the Groupon homepage.  Here are the offers available today:
Little Rock– $60 for Three to 11 Letters of Name Art from Hal Jaffe Name Art ($159.90 Value) Shipping is included
Washington D.C.-$45 for One 16″x20″ Gallery-Wrapped Canvas Including Shipping and Handling from Canvas on Demand ($126.95 Value)
Seattle Side Deal: $25 for a $50 Zazzle voucher.  You can use this to get 60 photostamps for $0.40 each.  Make sure to shop through Ebates to get 10% cashback as well.
I ordered the Zoka Coffee groupon when it was available before.  My husband is very picky about this coffee and he was happy with it.
Thanks Bucktown Bargains!