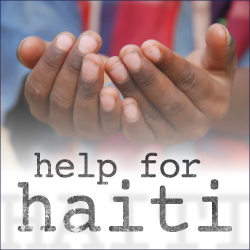 Over these past few days my heart has been heavy after hearing the news coming from Haiti.  See, 11 years ago a devastating hurricane hit my home country of Honduras killing thousands of people and destroying a lot of the infrastructure through out the country.  When I heard the news coming from Haiti I couldn't help but thinking of everything I felt 11 years ago while watching the devastation on TV and with my own eyes,  the people lost, those alive with their belongings destroyed or wondering if everyone in their families had survived.
Eleven years ago people around the world open their hearts for my country and their people and it is not my turn to do the same for the people of Haiti.  You can help too:
1)  Lift the people of Haiti and their families abroad in prayer.
2)  If you can't give now consider saving a small amount of money to give later.  Unfortunately help will be needed for a long time for the people of Haiti to recover from this.
3)  You can give for free here, right now.  My family is pledging $1 for every comment left in this post up to 500 comments.  For a total donation of $500 that will go to the Red Cross.
Thank you for your comment and for helping me help others.  Please remember to share this with others so they can also come here and comment and help me reach my goal.
If you are looking for organizations that are accepting donations check out:
Sovereign Grace Ministries
Compassion International
Numana
American Red Cross
This post is also part of a linkup.  If you have a blog and are doing something to help Haiti please leave your link to your post below.  If you don't have a blog you can share how you are helping in the comments section.  If you are a reader you are welcome to click through to help others help Haiti.