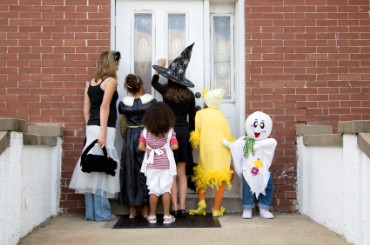 Time to shop for Halloween costumes!  Well, then let me tell you that you need to start shopping closer to home than you think.  Today I want to share with you these ideas to help you save BIG on costumes this year:
Get them FREE!
Enroll friends, neighbors and family in a costume swap party.  Chances are that you have friends and family that have outgrown Halloween costumes they no longer can use.  But maybe you have some that they CAN.  So get together as many friends as you can and swap those outgrown costumes with each other.  You don't even have to give the costumes away.  Most costumes are only used for hours so you can lend costumes to each other.
Get them for LESS!
There are a few ways you can get your Halloween costumes for less:
Get creative and make your own!  Repurpose old clothing into Halloween costumes.  It can be your own clothing or hit the thrift store for the pieces that you need to make your own.
Thrift stores and consignment shops have LOTS of costumes just waiting for you to check them out.  As with any thrift store shopping it takes a bit of luck and persistence.  But you may get lucky and find costumes for a fraction of what you would pay at a store.
Wisebread just posted 85 Easy and Frugal Halloween Costume Ideas if you need some inspiration.
Think Ahead
I love shopping Halloween Clearance! Not only does it let me buy next year's costumes at 90% off but it also provides outfits for pretend play for my kids.  So when Halloween has come and gone visit your local store and snag some of those costumes for deep discounts and keep them to use the following year.