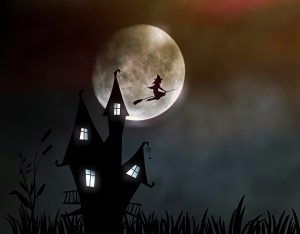 SPOOKY SEASON IS HERE!!! It's time to grab a snuggly blanket and get ready to watch some of your favorite scary movies. I don't know about you, but I like to include my entire family in my spooky season scary movie marathons. When I say may entire family, I mean my entire family. Dogs included!! 
We love getting snuggly during the cooler months and that often includes puppy cuddles, so why not include them in our movie watching marathons? If you want to start this tradition too, here are some great Halloween movies to watch with your dog.
Halloween Movies to Watch with Your Dog
Poltergeist
Any scary movie fan knows that there is basically no better scary movie than Poltergeist, am I right? Even after decades, it is still scary!
The dog in this movie reminds us of how loyal pups can be. No matter the chaos happening all around him, he stays put the entire time. 
The Lost Boys
Awesome 80s cast (seriously), and a dog that can sense vampires?! YES!!! Your dog can be reminded of just how much of a difference they can make in any given situation. The dog in this movie, Nanook, might just be the main hero of this movie since he saves the lives of the boys that he loves by taking out a vampire. 
Tucker and Dale vs. Evil
Have you ever watched Tucker and Dale vs. Evil? If you said no, add this one to your list right now. Seriously, right now. My family and I watch this movie every year (sometimes twice) and it's really just very funny. Yeah, sure there is gore, but it's just not the same as your typical scary movie. 
Anyway…this is a great movie to watch with your dogs because one of the best characters in this movie is a sweet one-eyed bulldog named Jangers. He is the sweetest pup!