I've been looking for a decent hand blender for an affordable price lately, and I found a couple that seem like pretty good deals. (Even though I just started the no-spend month, I can still look!)
The first one is a DeLonghi Hand Blender from Tiger Direct: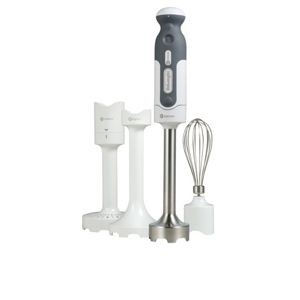 It has a 380 watt motor, variable speeds, and push-button controls. The list price is $99.95, but it's down to $29.99 right now. Prices on Amazon on this model start at $50.
The next is a Cuisinart QuikPrep hand blender on Amazon:
It also has two speeds, but it the reviews aren't as good as the previous blender. These are normally $55, but the white one is marked down to $19 right now, and the red one is marked down to $18 right now. 
So, there are my choices. Hopefully the prices will stay low until after my no-spend month, but I doubt it… *SIGH*