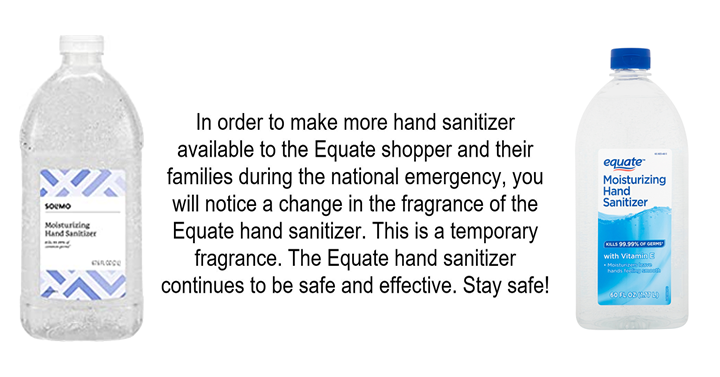 That's right… let's talk about it… I am not the only one who is noticing that hand sanitizer is smelling BAD these days! I used to like the way hand sanitizer smelled. But now I think that most hand sanitizer smells sort of rotten. What is up with the smell? Even my kids noticed and asked if coronavirus ruined hand sanitizer. Truth is… it did!
Most of us are probably used to hand sanitizer made with isopropyl alcohol. Coronavirus altered supply and demand for hand sanitizer which forced many manufacturers to use ethanol as a substitute for the isopropyl alcohol used in hand sanitizers. Hand sanitizers are basically a rubbing alcohol applied to the skin. The results are the same as long as the product contains the right percentage of alcohol. The CDC recommends using hand sanitizer with greater than 60% ethanol or 70% isopropanol.
Even though they work the same – they do not smell the same! The odor of hand sanitizer made with ethanol is unfamiliar and sometimes seems unpleasant. So much that Walmart added the little blurb I shared above right to their product page! Ethanol is made from natural sources, examples being corn or sugar, so the end product can have an odor. So you aren't crazy and your sense of smell isn't off… that hand sanitizer you are using just might STINK!
Stinky or not, we are all grabbing bottles of hand sanitizer to help keep our families safe. If you are in the market for hand sanitizer – here are links to a few of our favorites!
Amazon Brand Solimo Hand Sanitizer – 67.6 Fl Oz – Priced at $11.99.
Equate Moisturizing Hand Sanitizer – 60 fl oz – Price at $5.97.
Suave Spray Bottle Hand Sanitizer – 10 oz, 6 Pack – Priced at $26.94.
Earth to Skin Hand Sanitizer Gel, 2 oz Blueberry, 6 Pack – Priced at $6.99.
Hello Bello Hand Sanitizer Spray in Lavender, 4oz, 4 Pack – Priced at $11.97.
Artnaturals Alcohol Based Hand Sanitizer Gel – 2 Pack – Priced at $11.95.