Well, I'm just all over the kids' movies today aren't I? I went from Disney's Frozen to the Ice Age collection, and finally to…
Happy Feet!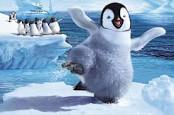 Happy Feet is another one of those rare animated movies that I actually liked. Mumble's just so adorable!
Best Buy is selling the two pack of these movies – Happy Feet and Happy Feet 2 – for just $7.99 right now, almost half off the regular price of $14.99. You can get free shipping if your order is $25 or more, or you can skip the shipping charges altogether by opting for free store pickup.