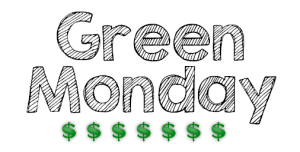 Green Monday is here!
What, you didn't know about Green Monday? Neither did I until just a few days ago, but I'm glad I found out about it.
What is Green Monday?
Green Monday is very similar to Black Friday and Cyber Monday. It's considered to be one of the last big shopping days before Christmas. Consumers who order online can usually be sure that their merchandise will arrive in time, and many online stores are offering some great discounts.
Typically, Green Monday is the second Monday in December. However, more specifically, it's the last Monday in December with at least 10 days before Christmas.
How Did Green Monday Start?
The mega-auction site eBay was the first to use the term Green Monday. Apparently, this day was the day in December when they had their highest amount of sales. "Green" is most likely used because it is most commonly associated with money and wealth. How clever of them…
Where Can I Find Green Monday Deals?
Green Monday deals are all around today. You just have to look.
Your best bet for finding Green Monday deals, though, would be to check online. Tons of stores and websites are running sales and deals today. Some of them are advertised and others aren't. I'll definitely be scoping things out for you – and myself – and posting the best deals as I find them. Some of the websites to watch would be those of the major retailers, like Kohls.com, Walmart.com, and Target.com.
How Can I Save the Most on Green Monday?
Two words – coupon codes!
In addition to watching for sales and deals, always check for coupon codes. When I post deals, I'll usually include the best coupon codes that I can find for that particular deal. Sometimes it's just free shipping (which can actually save you a bundle) but more often than not, it's a code for a certain percentage off. When you pair these codes with Green Monday deals and sales, you'll save a ton!
You should also consider shopping at stores and websites that offer rewards and other incentives. Kohl's, for instance, offers consumers Kohl's Cash. Right now you can get $10 in Kohl's Cash for every $50 that you spend in one transaction. You can then use this "cash" to buy other merchandise later with no minimum purchase requirements and very few restrictions.
You might also want to wait a bit before checking out. Sometimes you can find great deals for a particular website a short time after you add an item to your cart. Most websites offer free shipping on orders that are a certain amount. If you wait a bit and add more items to your order, you can take advantage of these free shipping offers and save even more.
However, the biggest secret to saving the most on Green Monday is to ONLY buy items that you would normally buy. Purchasing something just because it's on sale pretty much defeats the purpose of saving money in the first place, dontcha think?
What about you? Did you know about Green Monday?