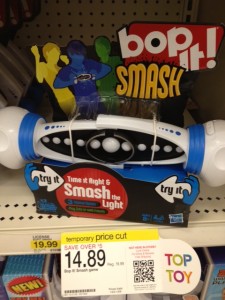 Here is a handful of Hasbro toys and games printable coupons currently available.  These toys and games are coming up for sale right now so print these if you are interested in buying any of these products:
$5 off one LITTLEST PET SHOP FAIRY FUN ROLLERCOASTER Toy
$5 off one KRE-O BATTLESHIP ALIEN STRIKE Building Set
$5 off one KRE-O BATTLESHIP U.S.S. MISSOURI Building Set
$5 off one DRAW SOMETHING Game or one WORDS WITH FRIENDS Game from Hasbro
$5 off BOP IT! SMASH Game (#32949) or one TWISTER DANCE Game (#98830)
While I was at Target I saw Bop it Smash on temporary price cut for just $14.89 so you pay just $9.89 after the $5 coupon! 
Plus, you can grab the games Bop it Smash it and Words with Friends are on sale at Toys R Us this week for $14.99. Use the coupons above to pay only $9.99 for each of them.