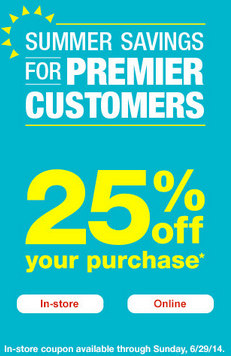 Hey, CVS shoppers! If you're signed up for emails from CVS, make sure you check your inbox or spam folders. You might just find a nice little 25% off coupon!
This coupon is valid in stores through 6/29, and is only valid on non-sale items. Contrary to what some may believe, you can still use this coupon on items that generate ECB, as long as they aren't on sale for a lower price.
The 25% off discount will be taken after any CVS coupons and before manufacturer coupons. Using Beauty Bucks, CVS $/$$ coupons, and forced ECBs will lower you subtotal and 25% off discount.
This coupon would be great to use on this week's L'oreal facial care deal.
Buy (3) L'Oreal Ideal Moisture Even Skin Tone Day/Night Cream @ $6.99 ($20.97)
Buy (2) L'Oreal Ideal Clean Foaming Gel Cleanser @ $4.99 ($9.98)
– Use 25% off coupon (-$7.74)
– Use (5) $3/1 L'Oreal Paris Skincare Product
– Pay $8.21 out of pocket
– Get $10 ECB
Final Cost: FREE + $1.79 Money maker!!
Here's a nice little shaving deal I'm planning to do this coming Sunday. Next week, we'll get $4 ECB when we buy one Venus razor. I think these sell for around $7.29 at my store.
Buy (1) Venus Razor @ $7.29
Buy (1) Skintimate shave gel @ $3.29 
– Use $4/$10 purchase of razors, blades, or shave creams/gels (CVS coupon printer)
– Use 25% off coupon (-$1.65 after CVS store coupon)
– Use $3/1 Venus razor (6/1/14 PG)
or 
Use $2.00 off ONE Venus Razor or Disposables Pack
– Use $.55/1 Skintimate shave gel or cream (June 2014 issue of ALL You)
– Pay $1.38 out of pocket
– Get $4 ECB wyb 1 Venus razor
Final Price: FREE + $2.62 Money maker!!