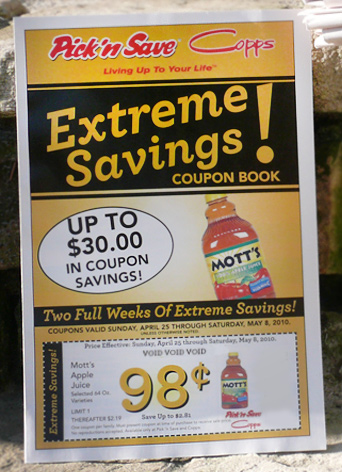 If you shop at PNS/Copps, you may want to know this bit of info. This coming Sunday, you will find a coupon booklet chock-ful of coupon savings good at Copps/Rainbow/Pick N Save. The coupon has $30 worth of savings that expand over a two week period. According to the PR rep that contacted me about this, here are some of the offers available:
No matter the store location, shoppers have the opportunity to buy a package of selected 13.25- to 16-ounce varieties of Barilla pasta for only $.48; a 24-pack of Roundy's brand water for $2.88; and a loaf of Sara Lee Wide Pan Bread for only $1.68. They also have the opportunity to score other great deals with additional coupons included in the book.
This coupon booklet will be in your Sunday newspaper so you may even want to get an extra copy if they are pretty good coupons.