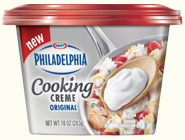 If you are a member of Kraft First Taste, you may want to log in to your account and check under "My Offers" for any new offers you may have available.  Some members are reporting the offer for a free coupon of Philadelphia Cooking Creme (up to $4.49 value) was available to them.  I just checked my account and I had this offer which is great because I have not had any offers for a while.  Note, you may get a different offer such as a high value coupon.
If you are not a member of Kraft First Taste, you can sign up for free and you may get invitations to try new Kraft products for free.
Thanks Deal Seeking Mom!