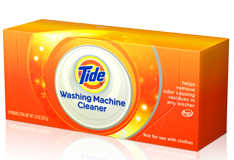 Tide has announced on its Facebook page that tomorrow (1/26) will be giving away Free Tide Washing Machine cleaners.  There will be 5,000 cleaners to go around and this giveaway starts at 2PM EST.   I am guessing they will post a link to where you can sign up on the Tide Facebook page, so you may want to like Tide on Facebook.
Like Common Sense with Money on Facebook to get a reminder so you don't miss out.
Thanks, One Momma Saving Money!