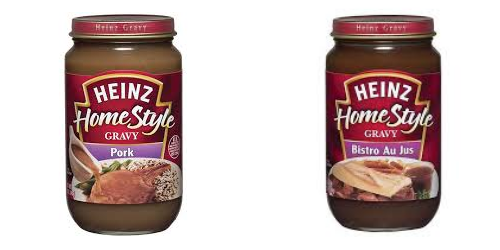 Heinz has issued a voluntary recall on approximately 500 jars of gravy this week. According to the company, jars of the Heinz Pork Gravy may have actually been mislabeled as Heinz HomeStyle Bistro Au Jus Gravy. In addition to making for an interesting surprise during dinner, the mix up could possibly make some people with certain food sensitivities sick. Heinz Homestyle Bistro Au Jus Gravy contains milk and soy, whereas Heinz Pork Gravy does not.
If you're concerned about the wrong gravy in your jars, just check the jar. The products affected are 12 oz jars labeled as Heinz Pork Gravy. The jars are labeled best by Dec. 28, 2017 with a UPC code of 013000798907.
If you find a jar of possible mislabeled gravy, you can return it to the store where it was purchased for a full refund or exchange. If ou have any other questions, you can call the company at (866)572-3808 from 9 a.m. to 6 p.m. Eastern Monday through Friday.