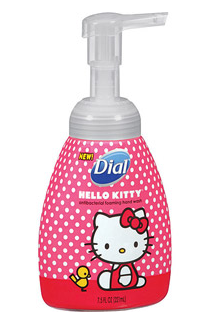 There are a couple of Hello Kitty Hand soap printable coupons you can use to get $1 off on this product at Target.  Check out the deal you can get:
Buy two Hello Kitty Foaming Hand Soap $1.89 (Regular Price)
Use one $1/2 Hello Kitty Hand Soap Target Coupon (expires 12/10) Use ZIP 90210 to find this one.
Use two $0.50 off (1) Dial Hello Kitty Bar Soap
Pay $1.78 for two after coupons
*To change the zipcode click on the "Local Coupons" tab ad you will see the zip code field on the top left hand side, right below the Coupons.com logo. After you have changed the zip code click back to the "Coupons" tab to find this one or click on this link to find this coupon faster.
Those look so cute!  Check out other Target deals here.
Thanks Totally Target!