On the third week of my series: Help the Planet and Your Budget by Going Green, I am giving you even more tips for a greener home.  This time the tips are more general and are applied to the rest of the living areas of your home.
Here's a living area that gets a lot of traffic at home: our family room.  About three weeks ago I had it professionally cleaned, because let's face it, I have two dogs and two small kids and it really needed it.  Unfortunately, it had not been a week since I had it cleaned and looking great when my 4 year old spilled a whole glass of strawberry shake on it.  I freaked out at the possibility of a pink stain on the carpet.  Regularly, we would have used the Bissell steam vac that we have.  That thing has helped us keep our carpet reasonably clean but it's really a pain to pull out for small clean ups like the one we had in front of us.  Fortunately I recently received a Bissell Little Green Cleaner courtesy of Bissell.  I was not looking forward to an opportunity to give it a try but I am glad it was there when we had this mess to clean up.  It picked up the mess and there are no stains to show for it, which is great because I was charged $25 to get rid of another stain on my carpet when I had it cleaned.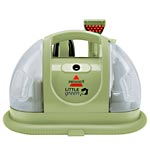 Today I have one to give away to one of my readers!  All you need to do is:
Leave me a comment sharing who in your home creates the messes you end up having to clean up.  For example, in my home my dogs create more mess than my children.  So they are the messer-uppers around here.

Please remember to leave your name and email address in your entry. I need to have a way to contact the winner. Entries with no contact information will be considered invalid.This giveaway ends Sunday 4/19 at 9 PM CST. At that time I will select one winner at random using Random.org. The winner will be contacted and will be given 48 hrs to contact me back with their mailing address. If I don't hear back after that period of time I will select another winner randomly.  U.S. addresses only please.