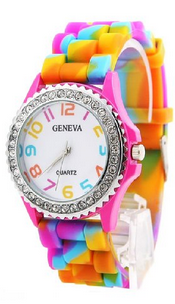 I'm on the hunt for a fun watch today! The Girl One's birthday is coming up soon, and this Geneva rainbow and rhinestone silicone watch on Amazon might be a fun little present for her! And, at $4.42 with free shipping, I can live with it too. In fact, I might just buy two…
However, she's in her preteens now (she's OLD!) and I'm wondering if a little more "grown up" watch would be better…? These crystal dial leather watches are also really cute, and they're only $3.68 with $1.00 shipping.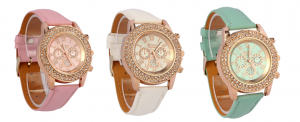 I don't want to get her something too expensive yet, because let's face it—she's still a kid, no matter what she tries to tell me! I have a sneaking suspicion that the chances of her losing or breaking her watch are better than average.
What do you think? Should I get the cute rainbow watch or the crystal bling?