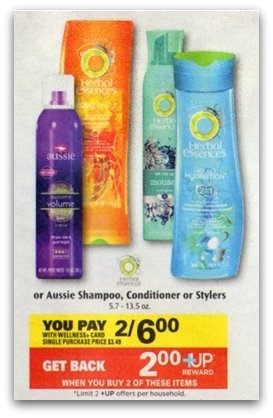 You only have a couple more days to grab this great deal so check your Rite Aid ads! Some areas have extra sales but sadly these are very regional.  If you're area was one of them here's a fantastic deal you can grab at Rite Aid this week:
Buy (2) Herbal Essences Shampoo, Conditioner or Stylers  5.7-13.5 oz – $3.00 each, wyb 2 (sale price thru 10/6)
Buy 2, get back $2.00 +Up Reward thru 10/6 (Limit 2)
Use BOGO Free Herbal Essences shampoo, conditioner or styler free up to $6.99 fromSS 9/16 (exp 10/31)
Pay $3.00, get back$2.00 +Up Reward
That works out to be just $0.50 each when you buy 2 after coupon and rewards! 
I'm not sure if this is truly a regional deal or for everyone but it's worth a look!  Check out all the best Rite Aid deals here.
Thanks KCL