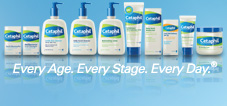 I am so excited about this new Cetaphil product printable coupon.  It is extremely high and therefore raee.  Visit Cetaphil.com and take their survey and you will get the $5 coupon delivered to your email inbox.  My sister loves the face wash and now with this coupon I can give it a try too.  The site is running a bit slow, so please be patient.
Editted to add:  This is supposed to show better in Internet Explorer.
Thanks Moms by Heart!