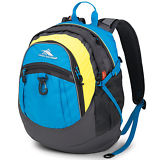 A high quality backpack is a must for back to school in our house every year. I want backpacks that will last all year and beyond. I like to try to stick with high quality and trusted brands and am always looking for great deals.
High Sierra makes a great backpack, and there's a nice deal on the Fat Boy backpack right now on eBay. Normally $29.99, you can pick up a High Sierra Fat Boy backpack for only $13.99 right now with FREE shipping. That's over 50% off and an overall nice deal on this!
Features:
• Large, multi-compartment design.
• TECHSPOT™ tablet computer sleeve (12.5 x 11 x .75in).
• Adjustable side compression straps.
• Premium organizer with multiple pockets and key fob.
• Front zippered accessory pocket.
• Media pocket with headphone port.
• Mesh beverage pocket.
• S-shaped, VAPEL™ mesh padded shoulder straps with Suspension System and integrated media pocket.
• Primary padded back panel.
• Monster hook for attaching extra gear.
• Convenient grab handle.