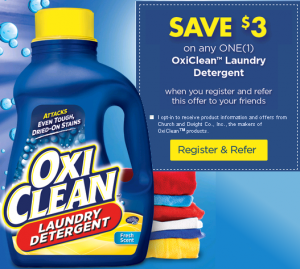 Here's a great coupon for Oxi-Clean laundry detergent! Register and refer this offer to friends and receive a coupon for $3/1 OxiClean laundry detergent! If you don't want to share, you can also print a coupon for $1.50 off.
You can also get an awesome deal on Clorox 2 stain remover sprays at Target right now!
Remember, you can usually get two prints from each coupon. To get a second print, just come back to this page and click on the coupons you want again. It'll save you some time and frustration searching, and each one will open in a new tab. 
Resources You Might Like:
Coupons.com