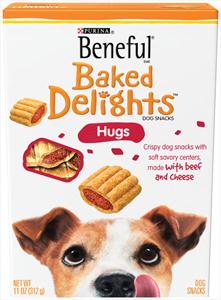 Beneful is offering a high value $2/1 Beneful Bakes Delight printable coupon on its Facebook page.  Just "share a Hug" via uploading a pic of you hugging your dog or by writing a "hug" using  Twitter or Facebook and print this coupon.
Fine Print:

The first 12,000 users who use the custom Hug Your Dog Day Facebook application to add a photo to our gallery or post a message using our message generator are instantly eligible to download a $2 coupon. When 25,000 total, cumulative "hugs" have been counted, an additional 63,000 $2 coupons will become publicly available while supplies last or until April 24, 2012.
So, I guess if you do not want to upload a pic you can wait until 12,000 other people have and there are coupons available for all to print.
Thanks Passion for Savings!