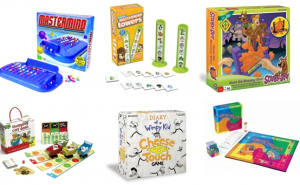 Nothing like a good board game to entertain the family on a Saturday evening.  I love that board games not only get the mind working but also get the conversation going.
Checkout this board game offers from Pressman Toys:
Mastermind Animal Towers: This is a great game for ages 6 and up. Here both players secretly stack their animal tiles in their towers. The challenge is to guess the order of their opponent's tiles first. Great memory exercise, let's see how fast you can guess the right order.
Diary of a Wimpy Kid Cheese Touch game: Make your way to the finish space without having the Cheese Touch. Game pieces depict favorite Diary of a Wimpy Kid characters, including Greg, Rowley, Fregley and Manny.
Chimp and Zee's Shopping Cart Dash : This is a ton of fun for little ones. It is also a great way to get kids started on the value of money. The game could use adding some coupon game pieces :-). In this game take a shopping list and a shopping cart and race along the supermarket aisles collecting fruits, vegetables, meat/fish you need to finish the task.For 2-4 players, ages 3 & up
Hold on Scooby Doo: My oldest's favorite. He is a HUGE Scooby Doo fan. In this game Scooby and Shaggy sit on top of a wall of bricks. You use one of the ghost hands to push out a brick, see how long it takes for both Scooby and Shaggy to fall down. You just don't want it to be on your turn. For 2 or more players, ages 5 & up
Mastermind: It's the classic game that brings together the codemaker and the codebreaker! One player is the codemaker. That player secretly sets up a code using any four color pegs. On every turn the codebreaker puts down a line of color pegs trying to uncover the secret code. For 2 players Ages 8 & up.
Wavelength: This game is for older kids aged teen-adult and you need 4+ people to play it. Players organize into teams of two players each. Each person on the team is given a scoring pad. On their turn, a team will draw a card and then roll two dice—one determines the theme for that round, the other die, indicates how many points their total answers are worth. Once the timer starts, all players in the game have 60 seconds in which to write down the first five answers that come to mind and to rank their answers in the order in which they think their teammate would have thought of the same answer. Players get one point for having the same answer, and another point if the answer is ranked in the same order.
Win Them!
Here is how to enter:
1. Leave a comment.
For additional entries:
Follow me on twitter and tweet the following (copy/paste): Stop by commonsensewithmoney.com for a chance to win a . Go here to enter #wingiveaways
If you are reading this entry on your RSS reader or email newsletter make sure to CLICK HERE to enter this giveaway. Emailing me is not a valid way to enter this giveaway. This giveaway is open to residents of the US 18 years and older. This giveaway ends 12/13 at 3PM EST
For more chances to win, enter this giveaway at these other blogs:
This giveaway was sponsored by as part of Win Giveaways Holiday Bash. This Post was written by me and was not edited by the sponsor. Read more on my disclosure policy. Find more information on the terms for this giveaway on the Win Giveaways Facebook page.