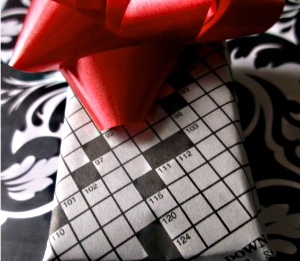 Every year, I spend an embarrassing amount of money on wrapping paper and embellishments for my gifts. It's one of the only things that I really splurge on. It's sick and disturbing really. (But, I don't have a problem. I can stop any time I want to!) Honestly, I don't really know why I don't just use homemade gift wrap. It would be so much less expensive and some homemade gift wrap ideas are actually really neat. Here are a few homemade gift wrap ideas that are beyond the basic "wrap it in newspaper" line of thinking…
Homemade Gift Wrap From Comics
Well, you could argue that this is the same as homemade gift wrap from newspapers, but it's so much more fun than wrapping something in "Dear Abbey" or the sports section. Some people may spend more time reading the package and snickering than opening the actual gift though.
Homemade gift Wrap From Craft Paper
Big rolls of craft paper can be found in craft stores and sometimes even the thrift store. They work great for homemade gift wrap, because you can decorate them any way you want. Black craft paper can be decorated with colored chalk, for instance, or you can stamp or paint your craft paper gift wrap. Homemade Gift Wrap From Old Maps I. Love. Maps. I love them, and creating homemade gift wrap from maps is right up my alley. I frequently haunt visitors centers and pick up free maps, and I often send away for a bunch of free maps from different towns and states. You can also use maps from old atlases, but only if it's an old book that's getting ready to get thrown out anyway. I really don't advocate ripping apart perfectly good books.
Homemade Gift Wrap From Magazines
The glossy paper in magazines makes great homemade gift wrap. Just be sure to use a gorgeous picture or even a page filled with text. Avoid using pages with ads, unless it has a pretty picture on it. Also, consider the gift or the recipients interests and try to coordinate the page with that. If the recipient is a gardener, for instance, maybe a page from a gardening magazine with a picture of flowers in bloom.
Homemade Gift Wrap From Giant Photos
This is a slightly more expensive method of creating homemade gift wrap, but it's really not as expensive as it sounds. You can get giant photos from Staples for only a few dollars. Just order a blueprint or engineer print and use a nice photo. You can order online and pick it up in the store. Not all stores will do this, though, so be sure to call your local store and see if they're game.
Homemade Gift Wrap From Fabric
Fabric gift wrap will give your gifts a luxurious feel, and it can be a pretty cheap way to make homemade gift wrap. It's actually free if you already have large fabric scraps around. If you don't, thrift stores often sell fabric, and you can also use clean and stain free sheets and lightweight blankets. Tie a pretty fabric ribbon around it to keep it closed.
Homemade Gift Wrap From Old Calendars
The year's coming to a close anyway, so why not use your old calendars for homemade gift wrap? It'll save you from having to throw them in the trash, and some of those calendar pictures are beautiful!
Homemade Gift Wrap From Scrapbook Paper
Scrapbook paper can be expensive, so you may not want to rush out and buy new paper for this. However, if you have tons of scrap book paper around because you stocked up during too many sales, this is a great use for it. It comes in such pretty colors and designs and would make some interesting homemade gift wrap.