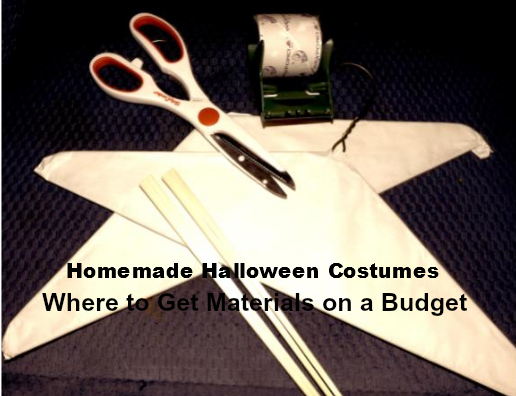 It's fall, and the kids need warmer clothes and the power bill is on the rise to keep up with the colder weather. That budget is stretched already. What to do for Halloween costumes for the kids!
Don't worry. There are plenty of options to help you put together cheap Halloween costumes that the kids will love.
You don't have to be a big spender
The dollar stores are a great option for finding low-cost material for cheap Halloween costumes. Be a good mommy and make a mummy. Paper mache rolls are great for wrapping the kids as mummies for just a buck a roll. You might even find them two for $1!
Get different colors… mummies are traditionally white, but it's Halloween, so how about an orange mummy or a black one? It's easy, quick and cheap!
While at the dollar store – by the way, Target and other retailers also have dollar sections – check for some wide yellow tape. Turn your kid into a bumblebee by dressing him or her in a black shirt and tights or tight pants (which you probably already have in their closet), and then wrapping the yellow tape around the shirt to create stripes. Pick up a $1 hair band or head band and attach a couple of straws or chop sticks to it to make antennas!
While at the dollar store, pick up some other colored tape to make your child a super hero! Chances are the little one has a same-colored outfit, like a jogging suit or just a shirt and pants that match. Now take the tape, maybe dark blue or even white (depending on the color of the outfit), and tape on a letter S for Super Kid or your kid's first name's initial. Use the tape to put some select markings on the outfit, such as wrap the tape a time or two around an arm or a leg. Grab a towel from the bathroom, secure it on the back (with tape or a safety pin) like a cape, and you have a super hero!
Goodwill, Salvation Army or thrift stores are excellent spots to pick up low-cost materials for great yet cheap Halloween costumes. Grab some worn looking jeans, a used t-shirt, maybe a hat and design a hobo costume.
In the shop, there is probably a section with office type supplies, where you can pick up a Magic Market, tape and other items you can use to make antennas and other accessories to add to a costume.
And look around. It's possible there is a princess outfit in the kid's section. These thrift stores sell Halloween costumes, too, at discounted prices.
It's amazing what you can do with some hangers, a towel and some tape!
When was the last time you picked up the dry cleaning? Check for some of those hangers wrapped in thin paper. Grab two and carefully bend them into wings… you might want to secure the paper with clear tape first.
Next dress the little one in white jeans or pants with a white t-shirt or top, attach the wings to the back (using safety pins or tape) and you have an angel.
Cheap homemade Halloween costumes can be fun to create for just a few bucks!  Be sure to check out all things Hallween here!