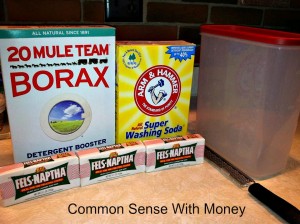 Have you ever considered making your own Laundry Detergent?  I always thought it would be too much trouble and wondered if it really does clean. Reader, Carrie decided to put it to the test and she was pleasantly surprised!  It was a snap to make a very large container, cleans very well and was a fraction of the cost of regular detergents.  So if you're ready to take the plunge and test it out here is the recipe!
What you'll need:
1 cup of Borax Detergent
1 cup of Arm & Hammer Washing Soda
1 bar of Fels-Naptha
These three items can be found usually grouped right together at your local Wal-Mart, Target or other grocery store in the laundry detergent section.
Step 1: This is the only "hard work" part of making your own laundry soap. Grind down the 1 bar of Fels-Naptha with a cheese grater or microplane. The finer the pieces are the better it works in your washer. I prefer to just use the tiny cheese grater shown in the picture because it's less of a cleanup. But you can use a larger one and then grind the chunks you have in a blender.
Step 2: Combine the 1 bar of shredded Fels-Naptha, 1 cup of Borax Detergent, and the 1 cup of Arm & Hammer Washing Soda into a container. Place the lid and give that baby a good shaking to mix it all together.
TA-DA!!! You having just made your first patch of homemade laundry soap, you will most likely now never go back to buying a bottle from a store because this is so easy, smells great and very budget friendly!
For medium loads I use 1 tablespoon and for large loads I use 2 tablespoons.
I do suggest that for stained or very smelly clothes that you invest in a tub of oxy-clean or for a little citrus or floral scent you can add a little essential oils of your choice.
This recipe can be used on regular washing machines as well as front loaders.  It is also safe for any septic system.
One idea I thought was nice was to give this as a gift!  You could find a cute glass jar with a homemade gift tags and give away to friends and family!
Thanks Carrie for the submission!