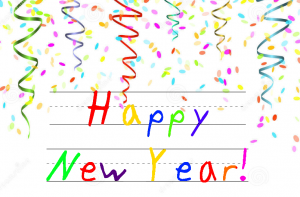 A kid-friendly New Year's Eve party is on the agenda at my house tonight. Actually, it's on the agenda every year at my house. I've never missed ringing in the New Year with my little brats since they were born. It's one of my favorite nights of the year, and I always look forward to it!
Fortunately, kid-friendly New Year's Eve parties are a lot cheaper to throw than parties geared toward adults. Kids don't require fancy schmancy finger foods or expensive drinks. They're also a lot easier to keep entertained—if you can keep them awake long enough, that is!
If you're looking at hosting a kid-friendly New Year's Eve party this year, you don't have to spend a load of money at all. In fact, you can get away with just a couple of small expenses.
Ban the Booze 

This pretty much goes without saying, but I'm still including it. Even if there will be adults and other parents at your kid-friendly New Year's Eve party, it's a good idea to just forget about the alcoholic beverages. Not only is it an unnecessary expense, but it can also be quite irresponsible.

Keep the Guest List Small You don't need to invite the whole neighborhood for a kid-friendly New Year's Eve party. If your kids want to ring in the New Year with their friends, allow them to invite one or two of their closest friends.
Ask Parents to Chip In If you're hosting a kid-friendly New Year's Eve party because you'll be babysitting for other parents, don't be shy about asking for a few donations. Ask parents to chip in and bring some snacks or drinks for the kids.
Hit the Christmas Clearance Aisles The Christmas clearance aisles of your local stores are great places to stock up on party supplies. You can find lots of goodies, from candy to paper plates to party favors, for dirt cheap! Even if they are Christmas-themed items, kids aren't likely to give a hoot. Besides, it's so close to Christmas anyway, no one is likely to even notice.
Organize Cheap Entertainment

Keeping some kids awake long enough to ring in the New Year can be a challenge with some kids. Entertainment is a must at a kid-friendly New Year's Eve party! Fortunately, you have a lot of options to keep kids entertained. Here are just a few:

Set up a makeshift movie theater, complete with fresh popped popcorn and movie tickets.
Play board games.
Play hide and seek.
Break out the glow sticks and have a dance party in the dark.
Set up "camp" in the living room with blanket forts.
Dress in fun costumes and have a photo shoot or fashion show.
Have a scavenger hunt.
Keep the fun coming with a New Year's Eve countdown balloon pop. (I LOVE this idea!)
Even if the kids aren't going to be staying up until midnight, they can still ring in the New Year—Just do it a little earlier. Turn the clocks back and have a mock countdown as it nears "midnight". Have a balloon drop—or lots of balloons drop! Don't foget the bubbly! (Non-alcoholic bubbly, that is!)
Are you hosting a kid-friendly New Year's Eve party this year? What are you planning?
More Frugal Living Resources: