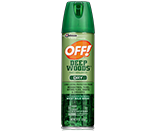 The mosquitos around here are BAAAD this year, and the skeeter planes aren't scheduled to spray for another week or two. So, this awesome new high value coupon for $2/1 Off! Deep Woods product is a gift from the Gods right now!
These should be on Rollback at Walmart right now for $4.97, so you'll pay just $2.97 after coupon. That's a pretty awesome price for some pretty awesome bug spray!
Here are a few more Off! coupons you might be interested in right now…
Remember, You can usually get two prints from each coupon. To get a second print, just come back to this page and click on the coupons you want again. It'll save you some time and frustration searching, and each one will open in a new tab. If you can't or don't use all of your coupons, don't forget to pay it forward.