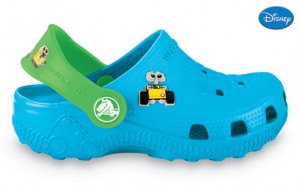 Updated with a third code you can stack!!
Wow! just caught wind of this super deal thanks to some bloggy friends.  There are currently two 20% off codes available for Crocs.com that can be stacked to get you 36% off already reduced items.  Oulet items have an additional 30% that's applied once you add the item to your shopping cart.  Here's a very sweet deal I just did:
Wall-E Caymans $17.99 (once added to cart $12.59)
-$2.52 when you use code DEALMOM20 for 20% off
-$2.01 when you stack with code MYCOUP20 for another 20% off
-$0.80 when you stack code C6VMRVKY3ISA for another 10% off
=$7.25
Choose economical shipping and you get it free!
Thanks Deal Seeking Mom and my frugal adventures!