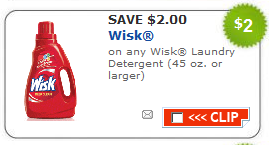 There is a new $2/1 Wisk Laundry Detergent printable coupon available.
But what makes this coupon even better is that there is also a new catalina offer available at certain stores:
Get $2.00 in future savings when you buy any Wisk® Laundry Detergent (50oz or larger)

Available at: Acme, Baker's, Cala/Bell Market, City Market, Coborn's, Cub Foods, Dierbergs, Dillon Food Stores, Farm Fresh, Food Lion, Fred Meyer, Fry's Foods Stores, Hornbachers, Jewel, King Soopers, Kroger, QFC, Ralphs, Redners, Sentry, Shaw's, Shop 'n Save, Shoppers Food, Smiths, Supervalu.  Expires: 5/10/2011
Combine this printable coupon, plus the $2 catalina coupon you get at checkout when you buy one of these to get $4 off each bottle. It is very likely that the detergent is or will be on sale at each of these stores before the catalina offer expires. Which means you will probably be able to walk away with it for very cheap or better.