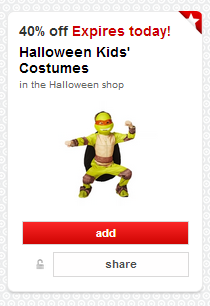 Wow! Head over and grab this Target Cartwheel offer for 40% off kids' Halloween costumes!
The offer states that it "Expires today", but it apparently this is just a glitch, and it really expires tomorrow. Here's what Target had to say about it:
Hi all – Sorry for the confusion. The expiration date is correct – tomorrow, September 27th. There's a pesky bug causing the "expires today!" message to show at the moment. Have no fear, you can still redeem the deal in stores tomorrow, too!
Just to be on the safe side, though, I'd add this offer to your account or print it by tonight.
Resources You Might Like: