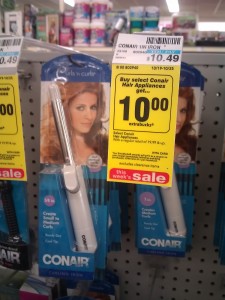 I*f you're heading to CVS this week, make sure you check in the haircare section for this sweet deal! This week's CVS ad states that you can get $10 ECB when you buy any Conair hair appliances with a regular retail price of $19.99 or more.
At my store, however, a couple of Conair curling irons are priced at $10.49 and they have the $10 ECB signage. I bought one, since I need a bigger barrel curling iron, and it produced the $10 ECB!
Here's your deal…
Buy (1) Conair Curls 'n' Curls curling iron @ $10.49
– Pay $10.49 out of pocket
– Get $10 ECB
Final Price: $.49!
This deal was even better for me, since I also got a $2 Exclusive MY WEEKLY AD Bonus ECB! This did not print at the red coupon machine, though. I had to send it to my card with the CVS Android app. You can also send it to your card through your account on the CVS Extracare page online. Just check under the My Savings & Rewards tab.
Going shopping? Check out all of the recent coupon deals we've found!
Get grocery coupon matchups right at your fingertips with Favado!
Sign up for FREE!

Resources You Might Like:
Coupons.com