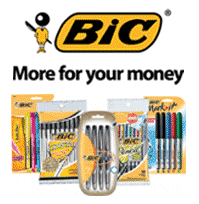 There are two links available for this HOT $1/2 BIC Stationary product coupon. One is here and the other one is on the Campbells website. You can use this coupon to get free pens at Walgreens next week!
BIC Crystal Boldpens $0.49 after in ad coupon
Use $1/2 manufacturer coupon or here
Two Free after coupon!
These coupons makes for some great deals all over the place.  Check out this nice round up of deals available this week.
I can tell you this coupon won't last long. So print it now!
Thanks, Moms By Heart!