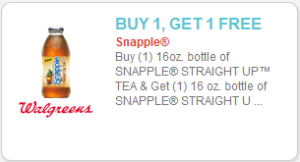 Wow! Here's a great BOGO Free Snapple Straight Up tea coupon! If you don't see it right away, log into your Coupons.com account and change your location to Ohio zip code 45414.
This coupon does have a Walgreens logo before you print it, but it doesn't print with a Walgreens logo. It's a manufacturer coupon and can be used anywhere.
Thanks Wild for Wags!