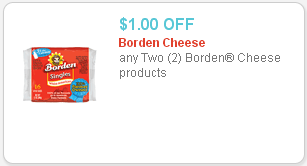 We eat a LOT of cheese in our house, so I always like to grab cheese coupons when I can! If you're the same way, make sure you print this new coupon for $1/2 Borden cheese products. It can be found under  zip code 33033.
If you don't see it right away, type in the zip code and refresh the page or come back and click on the coupon link again.
Can't find the coupon above? Read the tutorial on how to find zip code specific coupons or follow the condensed version below:
1. Create or sign into your Coupons.com account.
3. Hover your mouse over the profile image at the upper right-hand corner of the screen and click on "Your Profile".
4. Scroll down on the profile page until you see the "My Address" section. Hover your mouse over the zip code and click "Edit".
5. Change your zip code and state to anything you want and click "Save". You can leave the rest of the fields blank. 
Resources You Might Like:
Coupons.com