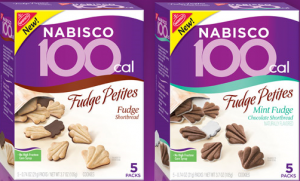 There is a new buy one get one free Nabisco 100 Calorie pack printable coupon (up to $3.69 value).  This is a Facebook offer.   Meijer is running the following catalina offers at the moment:
Buy 3 or more of the Following; Nabisco 100 Cal Packs, South Beach Living Bars, Kraft 100 Cal Cheese Packs, JELL-O Pudding and Gelatin Snack 6 pks, Breakstones Cottage Cheese 4pk, Breakstone Cottage Cheese Doubles, Get a $3 custom Checkout Coupon Valid On Your Next Order (Valid Through 5/15)
Buy 2 Nabisco 100 calorie packs in a single transaction, get a $1 custom checkout coupon valid on your next order. Buy 3, Get $2. Buy 4, Get $3 OYNO. (Valid Through 5/16)
Here is how you can use this coupon and catalina offers to get these better than free at Meijer:
Buy four Nabisco 100 Cal Packs $2 each
Use two Buy one get one free coupons
Pay $4 out of pocket and get back one $3 catalina coupon for each of the catalina offers mentioned above for a total of $6 back! That's better than free.
The Nabisco packs are on sale this week so you want to take advantage of this deal before the end of the sale.
Thanks Saving Addiction!