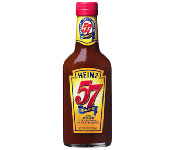 WOW! some pretty hot coupons available right now. These should make for some pretty cheap finds. I *love* that the summer coupons are starting to show up. Here are the newest coupons available, some pretty high value:
$2/1 Heinz 57 Sauce 10oz or larger
$2/1 Lea & Perrins Worcestershire Sauce 10oz or larger
$0.50/1 Bottle of Heinz Relish (awesome if your store doubles, should make small bottle really cheap)
$0.75/1 Bottle of Heinz Worcestershire Sauce
$1/1 Motrin or Motrin PM (combine with $2/1 Target printable to get 20ct free)
$1/1 Oreo Fudge Cream cookies (Facebook Offer)
Plus the following Mail In Offers:
Receive a coupon for $1 off any Banquet Family Size Entree. Click Here
Receive a coupon for $1 off any Marie Callender's Asian Recipes or Pasta Al Dente. Click Here
Looking for more printable coupons? Don't forget to search my Coupon Database. This is easy to do by using the search bar located right at the top of my blog. Also, you will always find printable coupons available on the following websites: Coupons.com, Red Plum and Smartsource.