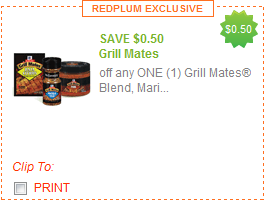 Time to stock up on grilling seasoning needs for FREE! Here are two hot coupons that are available to print right now, and they also came out in today's (4/18 inserts):
$0.50/1 Mc Cormicks Grill Mates
I just used both coupons to get these free after doubled coupon at Shaw's. Because, grilling season is coming you will find these items on sale very soon. So you will also be able to get them cheap and possibly free. if you shop at Acme, Shaw's or Jewel stores you may want to hold on to your coupons for the following catalina deal that starts on 4/23 and goes through 5/2:
Buy 2 Lawry's, Get $1 Catalina coupon back
Buy 3 Lawry's, Get $2 Catalina coupon back
Buy 4 or more, Get $3 Catalina coupon back
Even without double coupons this catalina is a money maker if the product goes on sale for $1. Buy four for $4. pay $2 after coupons and get $3 catalina coupon back.