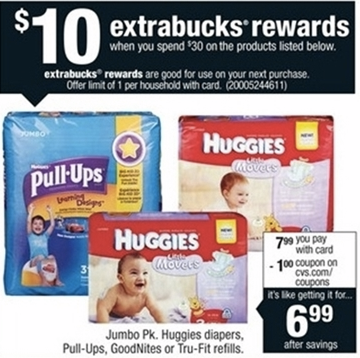 Starting next week, CVS will have Huggies diaper and Pull-Ups jumbo packs on sale for $7.999, and you'll get $10 ECB when you spend $30. We also get a couple of nice new Huggies coupons this morning:
Combine the sale, coupons, and ECB for this deal:
Buy (2) Huggies Jumbo Pack Diapers @ $7.99 each
Buy (2) Huggies Jumbo Packs Pull-Ups @ $7.99 each
Subtotal: $31.96
– Use (2) of these coupons:
– Pay $23.96 out of pocket
– Get $10 ECB
Final Cost: $13.96 wyb 4 ($3.49 each!!)
Going shopping? Check out all of the recent coupon deals we've found!
Get grocery coupon matchups right at your fingertips with Favado!
Sign up for FREE!

Resources You Might Like:
Coupons.com