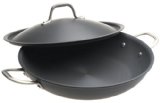 I just stumbled on a really good deal on pots and pans through Amazon.com. This is not normally the type of deals I write about but just like with the towels, these are things for the house that if bought of good quality they should last you a long time. We have a set of Calphalon pots and pans that we use everyday since we got married (seven years and going strong) and we have had no problems with them. They have held up very well and I don't foresee replacing them for probably another 7 years. Finding them 80% off is a really good bargain.
The ones that are on sale are:
Calphalon

Commercial Hard-Anodized 12-Inch Everyday Pan with Lid Down to $19.99 from $168

Calphalon

Commercial Hard-Anodized 2-1/2-Quart Shallow Saucepan with Lid down to $24.99 from $119

Calphalon

Commercial Nonstick 10-Inch International Griddle/Crepe Pan Down to $27.99 from $85
Amazon is offering a one year subscription to Bon Appetit when you buy more than $50 in their Home & Garden store. Find out more here.
PS. I am always concerned about sharing these offers because it is not normally what I write about. If it bothers you please send me an email or leave a comment with your concerns. I appreciate your feedback.