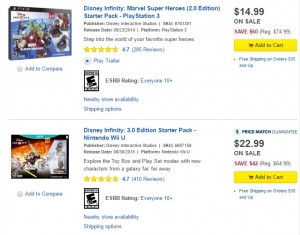 Yowza! I doubt you're going to find a much better deal on a Disney Infinity Starter Pack than this, even with that Target Cartwheel offer!
Best Buy has Disney Infinity 3.0 Starter Packs marked WAY down, with prices starting at just $14.99! There are also lots of Starter Packs priced at just $22.99! Prices are determined by which game console you have.
If you already have the Disney Infinity 3.0 Starter Pack, you can also get an awesome deal on characters right now as well. Prices on Disney Infinity 3.0 figures start at just $3.99!
Shipping is free on most orders of $35 or more, or you may be able to pick up some of these at your local store.