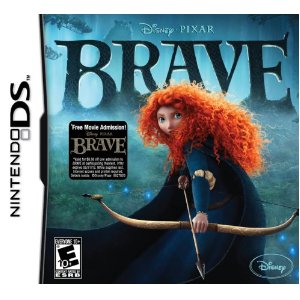 I just wanted to remind you that Amazon has a fantastic offer going on right now! When you preorder Disney's Brave Video game for any gaming system you will get a $20 Amazon Credit plus $8 Movie Admission free! If you purchase the Nintendo DS game for $29.99, after $20 credit and $8 movie admission it will be like paying just $1.99 for everything!  Here's how:
You must first choose your game format – Nintendo Ds is $29.99, PC is $29.96 and Xbox 360, Wii and PS3 are $49.99 each.  You will see on the product page your bonus offer and full details will be included in the shipment!

Plus if you click where it says SPECIAL OFFERS AVAILABLE under the price you will see the following:
Order BRAVE: The Video Game and receive a $20 promotional credit toward the purchase of items shipped and sold by Amazon.com (certain exclusions apply, including but not limited to Kindle books, Gift Cards, and Amazon Appstore for Android apps). We will send you a promotional code via email within two days after your order ships. Offer valid when shipped and sold by Amazon.com. This offer will be extended to all existing pre-orders. Limit one per household. Amazon reserves the right to change or terminate this promotion at any time. Here's how (restrictions apply).
One of the greatest things about this offer is you have no risk in ordering now with Amazon's Pre-order Price Guarantee! Order now and if the Amazon.com price decreases between your order time and the end of the day of the release date, you'll receive the lowest price! 
Amazon reserves the right to discontinue special offers at any time so I wouldn't wait if you're interested in this offer.
Thanks Wheelndealmama!