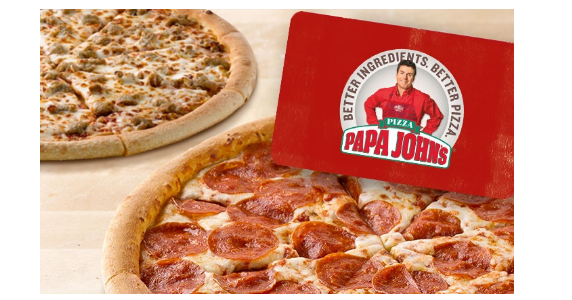 Wow, rest up and plan a pizza night this weekend! With this killer deal, you'll pay only $25 for 2 Extra Large 2 Topping pizzas, garlic knots & 2 Large 1 topping pizzas at Papa John's! Here's how this deal works:
First Purchase 1 $25 Papa John's eGift Card from Groupon and receive your $25 eGift Card PLUS 2 FREE Large 1 Topping Pizzas
Than head over to Papa John's site and buy 2 Extra Large 2 Topping Pizzas for $10 each when you use coupon code F1118REVEAL (expires November 21st). Plus buy 1 garlic knots for $5
You'll then use your $25 Papa John's eGift card to pay! Plus you'll still have your 2 FREE 1 Topping pizza codes from your Papa John's eGift Card purchase that you can use at a later time!
Note: You'll receive 3 emails from Groupon when you complete your purchase there. One with the $25 eGift card information in it and 2 emails with one promo code in each for your free large one topping pizzas.