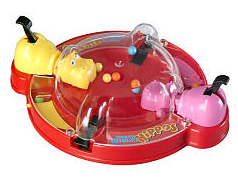 These new Hasbro Games printable coupon will make quite a few happy, including me.  If you did not get these coupons in your newspaper inserts today, here is a chance to take advantage of some great deals with the now available printable coupons.  Here is what you can print:
$5/1 Sorry Spin, Twister Hoopla, Bop It Bounce or U Build Battleship game.
$5/1 Elefun, Gator Golf, Hungry Hungry Hippos or Pop Goes Froggio game.
The coupons have no size restrictions and seem to expire 15 days from the time you print them. You can use the $5/1 Hungry Hippos coupon to get the travel size one free at Target or pay 24 cents for one at Walmart.  It seems there may also be a travel size version of Battleship available for $4.99 at Target.  So, you could get it free after coupon as well.
Thanks My Frugal Adventures!