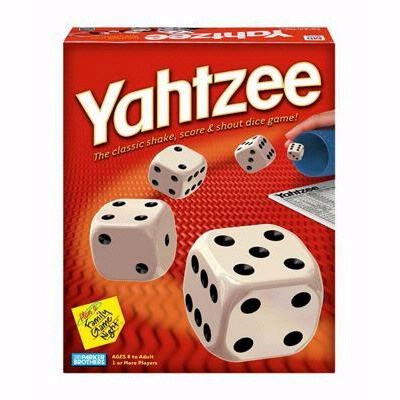 Wow! Here is a super cheap way to get Hasbro Yahtzee games at Kmart.  Right now, while supplies last,  you can get Yahtzee for just $3.59 each when you use promo code KMART10PSAVINGS at checkout (reg $9.99). Choose in-store pick up and shipping is FREE!  You will also find a great deal on Connect 4 Fun on the Run for $1.79 after promo code (reg $6.99).   This was not in stock in my location but it may be in yours.
Don't forget to use any of your way rewards you have by entering your pin number from your rewards card. 
To add to your savings, there is a REBATE offer (in the form of a prepaid card) from Hasbro when you purchase 2 or more of select games. Games include: The Game of Life, Monopoly, Scattergories, Pictionary, Scrabble, Yahtzee, Hungry Hungry Hippos, Jenga, Twister, Connect 4, Elefun, and Operation. Check out the Hasbro Rebate Offer here.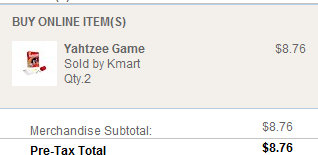 Here is what I did:
Add (2) Yahtzee Games #HBE0950 to your cart
Choose Pick Up FREE (in-store pickup) and choose a location nearest you
Apply promo code KMART10PSAVINGS
 Apply any Rewards points to reduce your total (if applicable)
I paid $8.76 pre-tax shipped free for in-store pickup
I will then submit the Hasbro Rebate Offer here – where when you buy two participating games you get $5 back.  The more you buy the more you get back so See rebate for full details.
That works out to be just $1.88 per game after promo code and rebate!!  If you happen to have the Connect 4  games you could a few of those for free after rebate!   What an awesome deal and inexpensive gift idea!
I almost bought these last night at ToysRUS with the deal I posted yesterday but instead just settled for Jenga.
Thanks for the heads up, Rose Knows Coupons