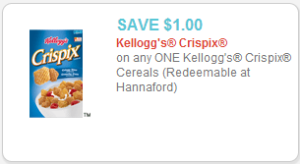 It looks like these high value Kellogg's cereals have reset! These can be found under NY zip code 12345!
Keep in mind that all of these coupons say "Redeemable at Hannaford" on them, but they are manufacturer's coupons and you should be able to use them anywhere.
To change your zip code, login to Coupons.com and go to your profile. From there, change your location to NY zip code 12345. Then come back here and click on the coupon link.
Going shopping? Check out all of the recent coupon deals we've found!