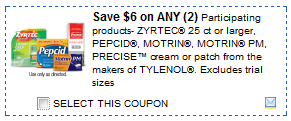 Holy Smokes!  There is a new super high value coupon for $6 off two MOTRIN, MOTRIN PM, Tylenol  PRECISE cream or patch, ZYRTEC® 25 ct or larger, PEPCID®.  Check out the very sweet deal you would be able to grab with these coupons at Rite Aid starting on Sunday 1/9:
Buy two Motrin PM $3, Earn a $2 +UP Reward when you buy one
Use $6/2 Motrin coupon
Free plus get back two $2 +UP rewards for buying two
Buy two Tylenol Precise Cream or Patch $5, Earn a $3 +Up Reward when you buy one
Use $6/2 Tylenol precise coupon
Pay $4 and get back two $3+UP Rewards for buying two
Thanks, Saving Addiction!